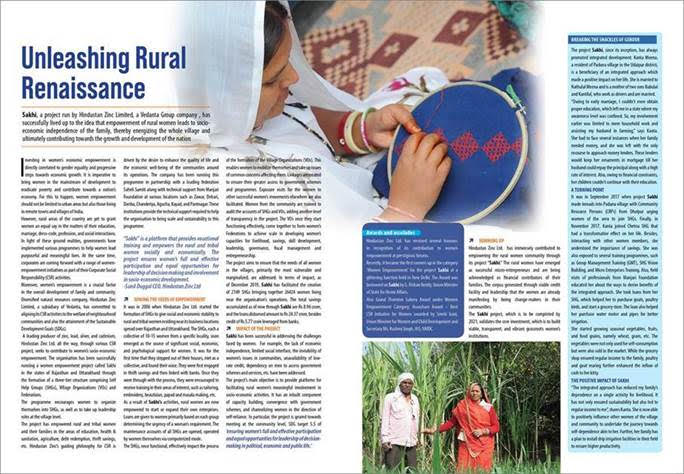 March 16, 2020, India Today Magazine Special Women's Day Issue
Sakhi, a project run by Hindustan Zinc Limited, a Vedanta Group company, has successfully lived up to the idea that empowerment of rural women leads to socio-economic independence of the family, thereby energizing the whole village and ultimately contributing towards the growth and development of the nation
Investing in women's economic empowerment is directly correlated to gender equality and progressive steps towards economic growth. It is imperative to bring women in the mainstream of development to eradicate poverty and contribute towards a nation's economy. For this to happen, women empowerment should not be limited to urban areas but also those living in remote towns and villages of India.
However, rural areas of the country are yet to grant women an equal say in the matters of their education, marriage, dress-code, profession, and social interactions. In light of these ground realities, governments have implemented various programmes to help women lead purposeful and meaningful lives. At the same time, corporates are coming forward with a range of women-empowerment initiatives as part of their Corporate Social Responsibility (CSR) activities.
Moreover, women's empowerment is a crucial factor in the overall development of family and community. Diversified natural resources company, Hindustan Zinc Limited, a subsidiary of Vedanta, has committed to aligning its CSR activities to the welfare of neighbourhood communities and also the attainment of the Sustainable Development Goals (SDGs).
A leading producer of zinc, lead, silver, and cadmium, Hindustan Zinc Ltd. all the way, through various CSR projects, seeks to contribute to women's socio-economic empowerment. The organisation has been successfully running a women empowerment project called Sakhi in the states of Rajasthan and Uttarakhand through the formation of a three-tier structure comprising Self Help Groups (SHGs), Village Organizations (VOs) and Federations.
The programme encourages women to organize themselves into SHGs, as well as to take up leadership roles at the village level.
The project has empowered rural and tribal women and their families in the areas of education, health & sanitation, agriculture, debt redemption, thrift savings, etc. Hindustan Zinc's guiding philosophy for CSR is driven by the desire to enhance the quality of life and the economic well-being of the communities around its operations. The company has been running this programme in partnership with a leading federation Saheli Samiti along with technical support from Manjari Foundation at various locations such as Zawar, Debari, Dariba, Chanderiya, Agucha, Kayad, and Pantnagar. These institutions provide the technical support required to help the organisation to bring scale and sustainability to this programme.
"Sakhi" is a platform that provides vocational training and empowers the rural and tribal women socially and economically. The project ensures women's full and effective participation and equal opportunities for leadership of decision making and involvement in socio-economic development.
-Sunil Duggal CEO, Hindustan Zinc Ltd
Sowing the seeds of empowerment
It was in 2006 when Hindustan Zinc Ltd. started the formation of SHGs to give social and economic stability to rural and tribal women residing near its business locations spread over Rajasthan and Uttarakhand. The SHGs, each a collective of 10-15 women from a specific locality, soon emerged as the source of significant social, economic, and psychological support for women. It was for the first time that they stepped out of their houses, met as a collective, and found their voice. They were first engaged in thrift savings and then linked with banks. Once they were through with the process, they were encouraged to receive training in their areas of interest, such as tailoring, embroidery, beautician, papad and masala making, etc.
As a result of Sakhi's activities, rural women are now empowered to start or expand their enterprises. Loans are given to women primarily based on each group determining the urgency of a woman's requirement. The maintenance accounts of all SHGs are opened, operated by women themselves via computerized mode.
The SHGs, once functional, effectively impact the process of the formation of the Village Organizations (VOs). This enables women to mobilize themselves and take up issues of common concerns affecting them. Linkages are created to ensure their greater access to government schemes and programmes. Exposure visits for the women to other successful women's movements elsewhere are also facilitated. Women from the community are trained to audit the accounts of SHGs and VOs, adding another level of transparency in the project. The VOs once they start functioning effectively, come together to form women's Federations to achieve scale in developing women's capacities for livelihood, savings, skill development, leadership, governance, fiscal management, and entrepreneurship.
The project aims to ensure that the needs of all women in the villages, primarily the most vulnerable and marginalized, are addressed. In terms of impact, as of December 2019, Sakhi has facilitated the creation of 2149 SHGs bringing together 26424 women living near the organisation's operations. The total savings accumulated as of now through Sakhi are Rs 8.96 crore, and the loans disbursed amount to Rs 24.37 crore, besides credit of Rs 5.77 crore leveraged from banks.
Impact of the Project
Sakhi has been successful in addressing the challenges faced by women. For example, the lack of economic independence, limited social interface, the invisibility of women's issues in communities, unavailability of low-rate credit, dependency on men to access government schemes and services, etc. have been addressed.
The project's main objective is to provide platforms for facilitating rural women's meaningful involvement in socio-economic activities. It has an inbuilt component of capacity building, convergence with government schemes, and channelizing women in the direction of self-reliance. In particular, the project is geared towards meeting at the community level, SDG target 5.5 of 'ensuring women's full and effective participation and equal opportunities for leadership of decision-making in political, economic and public life.'
Awards and accolades ( Highlight)
Hindustan Zinc Ltd. has received several honours in recognition of its contribution to women empowerment at prestigious forums. Recently, it became the first runners up in the category 'Women Empowerment' for the project Sakhi at a glittering function held in New Delhi. The Award was bestowed on Sakhi by G. Kishan Reddy, Union Minister of State for Home Affairs. Also Grand Thornton Sabera Award under Women Empowerment Category; Assocham Award – Best CSR Initiative for Women awarded by Smriti Irani, Union Minister for Women and Child Development and Secretary Ms. Rashmi Singh, IAS, NMDC.
Summing up
Hindustan Zinc Ltd. has immensely contributed to empowering the rural women community through its project "Sakhi." The rural women have emerged as successful micro-entrepreneurs and are being acknowledged as financial contributors of their families. The corpus generated through viable credit facility and leadership that the women are already manifesting by being change-makers in their communities.
The Sakhi project, which is to be completed by 2021, validates the core investment, which is to build viable, transparent, and vibrant grassroots women's institutions.
Breaking the Shackles of Gender
The project Sakhi, since its inception, has always promoted integrated development. Kanta Meena, a resident of Paduna village in the Udaipur district, is a beneficiary of an integrated approach that made a positive impact on her life. She is married to Nathulal Meena and is a mother of two sons Babulal and Kantilal, who work as drivers and are married.
"Owing to early marriage, I couldn't even obtain proper education, which left me in a state where my awareness level was confined. So, my involvement earlier was limited to mere household work and assisting my husband in farming," says Kanta. She had to face several instances when her family needed money, and she was left with the only recourse to approach money lenders. These lenders would keep her ornaments in mortgage till her husband could repay the principal along with a high rate of interest. Also, owing to financial constraints, her children couldn't continue with their education.
A Turning point
It was in September 2017 when project Sakhi made inroads into Paduna village with Community Resource Persons (CRPs) from Dholpur urging women of the area to join SHGs. Finally, in November 2017, Kanta joined Chetna SHG that had a transformative effect on her life. Besides, interacting with other women members, she understood the importance of savings. She was also exposed to several training programmes, such as Group Management Training (GMT), SHG Vision Building, and Micro Enterprises Training. Also, field visits of professionals from Manjari Foundation educated her about the ways to derive benefits of the integrated approach. She took loans from her SHG, which helped her to purchase goats, poultry birds, and start a grocery store. The loan also helped her purchase water motor and pipes for better irrigation.
She started growing seasonal vegetables, fruits, and food grains, namely wheat, gram, etc. The vegetables were not only used for self-consumption but were also sold in the market. While the grocery shop ensured regular income to the family, poultry and goat rearing further enhanced the inflow of cash to her kitty.
The positive impact of Sakhi
"The integrated approach has reduced my family's dependence on a single activity for livelihood. It has not only ensured sustainability but also led to regular income to me", shares Kanta. She is now able to positively influence other women of the village and community to undertake the journey towards self-dependence akin to her. Further, her family has a plan to install drip irrigation facilities in their field to ensure higher productivity.