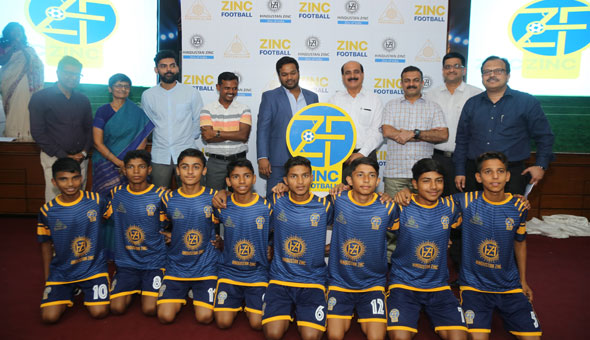 Financial Chronicle
Hindustan Zinc officially launched Project "Zinc Football" today to provide professional football coaching to the rural children of Rajasthan who are in the age group of 5-12 years. Hindustan Zinc has built a world class residential Football Academy at Zawar near Udaipur in Rajasthan with state-of-the-art facilities.
Logo of Zinc Football was also launched by Sunil Duggal, CEO-Hindustan Zinc, Annanya Agarwal, President-Vedanta Football – Vishal Bansal, IG of Udaipur – and Bishnucharan Mallick Collector of Udaipur.
Hindustan Zinc Football Academy is India's first technology based Academy. The Academy would provide international standard training facilities with 'F-Cube' Training and Assessment Technology, the world's first intelligent and interactive device for football and fitness training, skill assessment, cognitive development, practice and also factor in important parameters like skills, nutrition, physical, psychological and mental development.
The Zinc Football Academy will also be equipped with 3 FIFA Quality Turf and also a 7v7 size Natural Grass Ground for training and practice equipped with Team Dugouts.
The scouting of Football talent was done by Hindustan Zinc by going in the deep rural areas. 4500 children were scanned and finally 30 children have been shortlisted in the first batch which are fully supported by Hindustan Zinc who have also taken the responsibility of giving scholarships to all the students for their formal education also. Zinc Football intends to train over 2000 passionate boys and girls by fully skilled football trainers through 64 community football centres – Zinc Football Schools, across Rajasthan.
Speaking on the launch, Sunil Duggal, CEO – Hindustan Zinc said, "We at Hindustan Zinc are committed for working towards projects that support the public at large. With the launch of Zinc Football, we wish to establish Rajasthan on Indian football map, and eventually take our country to greater heights in sports. Our vision is to develop 10,000 football players in Rajasthan and in the next 3 years and emerge amongst one of the top 25 positions in football across the world."
"I was very excited to see Zawar's 'Kumar Mangalam Football Tournament". I saw thousands of people watching matches with great interest. This is when I thought we should develop a full-fledged football academy and scout young talent and give them world's latest training and other facilities" Sunil Duggal said.
Annanya Agarwal, President, Vedanta Football said, "Being a footballer myself, I am very passionate about football. India has a lot of talent but very little infrastructure. There is definitely a gap between what we need and what we have. This needs to be bridged. Our aim is to put India firmly on the world footballing map and see India among the top-10 teams in Asia and top-25 in the world within the next five years."
Hindustan Zinc is India's only and world's leading integrated Zinc-Lead-Silver producer. The Company has been associated with sports and has been promoting sportsmen for almost 4 decades when the company made its football stadium at Zawar in Rajasthan in 1976. Since last 40 years, National Football Tournaments are being organized every year at Zawar Stadium.