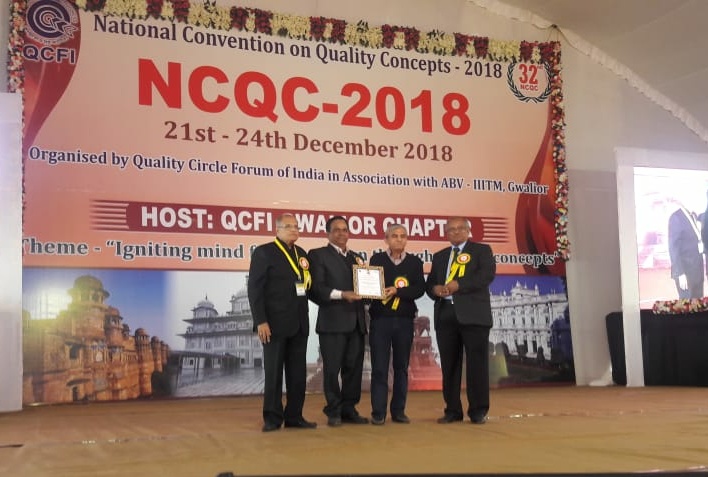 Hindustan Zinc's Central Research & development Laboratory and Kayad Mine has been awarded with 5-S JUSE (Union of Japanese Scientists and Engineers) certificate during 32nd National Convention on Quality Concepts – 2018 (NCQC). The event was hosted by Gwalior Chapter from 21st – 24th December, 2018 at ABV-IIITM, Quality Circle Forum of India in association with Union of Japanese Scientists and Engineers (JUSE). Hindustan Zinc has been awarded with the certificate on 21st December, 2018 by Chief Guest & Chairman of Central Board for Workers Education(CBWE), Western Division – Mr. H.J. Pandya and Mr. S.J. Kalokhe – President of QCFI for successfully implantation of required standards of 5S in organization.
After the end of the Second World War, the Government of Japan promoted the creation of industrial organizations. One of these organizations was the Union of Japanese Scientists and Engineers (JUSE). JUSE brought leaders and experts from all of Japan's major industries together to share the best practices. JUSE established the Deming Prize, which was originally awarded to individuals who had contributed to the theory and application of quality control and to corporations which had obtained outstanding results in the application of quality control.
QCFI has been spearheading the education, training, propagation and help in implementation of Quality Concepts in industries, service sector, education, health, rural areas, society, etc.
On behalf of Hindustan Zinc, Mr. Harish Trivedi – Analyst & Mr. Suman Kumar – GET from CRDL Department and Mr. Mansingh Gehlot – Head Environment from Kayad Mine received the Award.